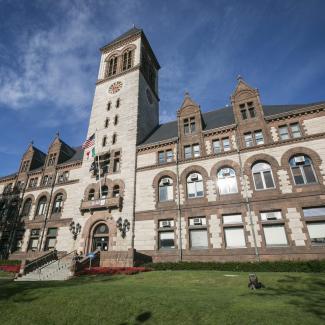 City of Cambridge Youth Workers – Teen (Summer Positions)
Logo

Submit resume and cover letter to: employment@cambridgema.gov
We're here to help
Schedule a time to review your resume, work on interview skills, or to chat about your career goals with Job Connector staff.
Responsible for leading a team of 15-20 summer program participants (ages 14 -18) through a 6-8-week first job experience and exposure to the world of work.  Youth Workers supervise Teens who are placed in specialized programs throughout the city. Cambridge Youth Programs (CYP) Summer Work and Learning sites offer participants a valuable educational and employment experience using the community's resources to expose youth to potential educational or career paths. Youth Workers will specifically:
Help develop, implement, and lead summer program activities including educational and field trips.
Work with other program staff to help plan and implement summer program primary events. 
Keep accurate and detailed records documenting participant's involvement. This will entail documenting programmed activities, filling out incident reports, collecting and filling out attendance sheets, and collecting data for the evaluation of summer program activities.
Maintain facilities and equipment.
Provide a safe structured and stimulating environment for Youth Center members and Volunteers.
Attend and participate fully in staff meetings, planning sessions, other meetings, staff development and training programs and activities as directed.
Be a positive role model to Youth and develop meaningful relationships with Youth Center Members.
Reasonable accommodations may be made to enable individuals with disabilities to perform the essential functions.
MINIMUM REQUIREMENTS: Prior experience working with high school youth in an academic, recreational, or athletic setting. Should have outstanding leadership, organizational, and team-building skills. HS Diploma/GED required. Familiarity with Cambridge neighborhoods preferred. The City of Cambridge's workforce, like the community it serves, is diverse.  Applicants must have the ability to work and interact effectively with individuals and groups with a variety of identities, cultures, backgrounds, and ideologies.
RATE: $16.65 per hour
APPLICATION PROCEDURE: Submit both your resume and letter of interest via email to: employment@cambridgema.gov or to the Personnel Dept, Room 309, City Hall, 795 Massachusetts Avenue, Cambridge MA 02139. Fax 617-349-4312. Review of resumes is ongoing. Position will remain open until filled. We are an AA/EEO Employer.