Apply Now to the Introduction to Construction and the Building Trades Program!
The Job Connector's four-week Introduction to Construction and the Building Trades program is currently accepting applications! Cambridge residents accepted into the program will spend 16 intensive hours learning about the construction industry. Industry experts join each session to share first-hand insights covering fields such as project management, environmental engineering, entrepreneurship, and the variety of work specialties in the building trades unions.
Check out this two-minute video of a previous cohort to get an inside look at the program.
---
Schedule an Appointment with Us!
We are incredibly excited to welcome members of the Cambridge community back into our space under zero restrictions! You can now meet with us in person at our offices located at 792 Main Street for assistance with your career needs. We are open for walk-ins Tuesday-Thursday from 9:00am to 5:00pm. Contact us at jobconnector@mit.edu or call us at 617253-7854 to set up an appointment.
Virtual services remain available, and we encourage those who wish to use them to reach out to us directly for availability.
You can also visit the Job Connector space virtually by taking an interactive 3D tour of our office below!
What's next in your career?
The Job Connector by MIT is a free workforce development hub for Cambridge residents. Connect with us to explore opportunities for job readiness, skill training, internships, apprenticeships, and to get a read on the changing career landscape in Cambridge.
How can we help you get there?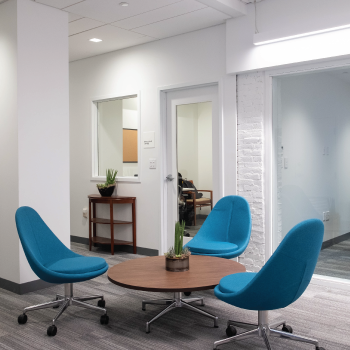 Here to help you get employment ready
Need a creative and professional resume? Want to write a cover letter that will get you noticed? We're here to help you highlight your qualifications and skills. Work with us to make your candidacy stand out.
Highlighted job opportunities
Resources for work and life
Uncertainty can be a roadblock on the path to success. We have curated a list of resources available to Cambridge families to help manage household affairs. From childcare to food security, we can help connect you to the right place.
By Phone:
617-253-7854
In Person:
792 Main Street, Cambridge MA, 02139
By E-mail: