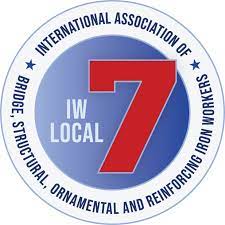 Iron workers erect, assemble, or install fabricated structural metal products, usually large metal beams. These beams are used in the erection of industrial, commercial or large residential buildings. Workers also erect the steel framework on bridges, storage tanks, overhead crane runways; as well as pre‐cast concrete and ornamental iron work amongst other projects.
Length of Apprenticeship: 3 years, 800 classroom hours of training and 4,000 hours of on-the-job-training.
Basic Requirements:
18 years or older.
High School Diploma or G.E.D equivalent.
Possess a valid drivers license or photo ID.
Possess a social security card.
Application Process:
Applications are accepted the first two weeks of January online at www.iwlocal7.com. Applicants are accepted in May. $20 application fee payable at time of application.
Contact Information:
Brian Donahue, Director
Iron Workers Local 7 JATC
195 Old Colony Ave, Box 7
South Boston, MA 02127
617-268-0707
briand@iw7jac.org