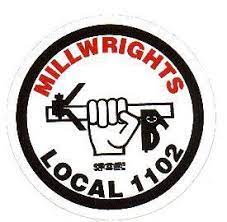 Millwrights install conveyor systems, escalators, giant electrical turbines and generators. They perform maintenance on machinery in factories, and do much of the precision work in nuclear power plants. Millwrights study and interpret blue prints, and engage in drilling, welding, and bolting. They work primarily in metal and with machinery and equipment requiring precision. Millwrights are members of the United Brotherhood of Carpenters and Joiners of America.
Length of Apprenticeship: 4 years, 640 hours of classroom training and 4,560 hours of on-the-job training.
Basic Requirements:
Must be 18 or older
Must have a high school diploma or G.E.D. equivalent
Must have a valid drivers license.
Application Process:
Applicants must go to the training center located at 90 Braintree Street, Allston MA, at 10:00am on the second or third Wednesday of the month. Interviews are held in January and June with respective classes beginning in February or July.
Contact Info:
Thomas Cole, Director 
Apprenticeship and Training Fund
90 Braintree Street 
Allston MA, 02134
617-354-0042
tcole@easternmillwrights-atf.com