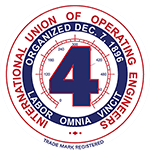 Operating Engineers operate and maintain heavy construction equipment such as cranes, excavators, loaders, pile drivers, and hoists. They use this equipment to excavate, move, or grade earth, erect structural steel, and pour concrete or other hard surface paving materials.
Operating Engineers Local 4 JATC
Length of Apprenticeship: 4 years; 600 hours of classroom training and 8,000 hours of on the job training.
Basic Requirements:
Must be 18 years old or older
Must have a valid drivers license
Must have a high school diploma or equivalent
Must complete drug testing and a physical
Must be physically able to perform duties
Must be authorized to work in the U.S.
Must reside in the jurisdiction of Local 4
Contact Information:
John Gaffny Jr., Coordinator
Operating Engineers Local 4 JATC
1 Engineers Way
Canton, MA 02021
781-821-0306
office@local4training.org
Application Process:
Applicants must contact the Apprenticeship and Training Program for information regarding application acceptance dates. Applicants must complete aptitude testing.