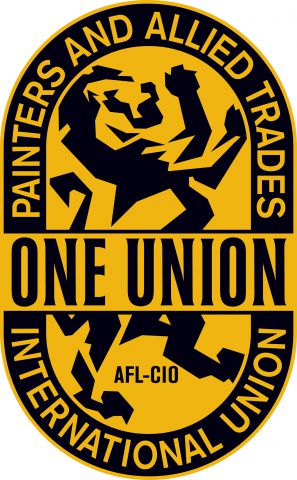 The Painters and Allied Trades Union involves several crafts:
Coating Application Specialist 
(aka Industrial Painter)
Industrial Coating and Lining Application Specialists
Apply/install protective coatings and linings to steel and concrete on complex structures, such as bridges and towers, ships and waterfront structures; manufacturing and processing facilities; and conventional and nuclear power generation facilities.
Drywall Finisher
Once the drywall has been securely installed, Tapers fill the joints between panels with a joint compound. The process for finishing drywall has evolved over many decades and is an overlapping process in which each step or application has an effect on the next step.
Glazier
An Architectural Glass and Metal technician, called a Glazier, is responsible for preparing, installing and removing various kinds of glass, mirrors, and metal framing.
Painter-Decorator:
Painters and Decorators apply decorative and protective finishes in residential, commercial, institutional and industrial settings.
Painters and Allied Trades District Council #35 Finishing Trades Institute of New England
Length of Apprenticeship: 3 Years; 450 hours of classroom training and 6,000 hours of on the job training.
Basic Requirements:
Must be 18 years old or older
Must have a high school diploma, GED, or Job Corps Completion Certificate
Must have a valid drivers license
Must show proof of work authorization in the U.S.
Must be physically able to complete the duties
Must pass a drug screening
Attend, and successfully complete, Apprentice Information Session
Contact Information
Eric Redding, Director
Finishing Trades Institute of New England
25 Colgate Road, Suite 221
Roslindale MA 02131
617-524-0248
redding@fti-ne.org
Application Process:
Must complete an online application at https://fti.unionlogic.net/fti-ne. Only 25 applications will be accepted per month.